The Ripple Technique is one that every skilled knitter and crocheter should know. Ripple techniques In this post, you will learn the basics of the Ripple Technique in both knit and crochet, and will be well prepared to work any pattern. . To follow along with this technique overview download the Ripples Galore pattern or purchase the kit from Mary Maxim

THE Crochet RIPPLE TECHNIQUE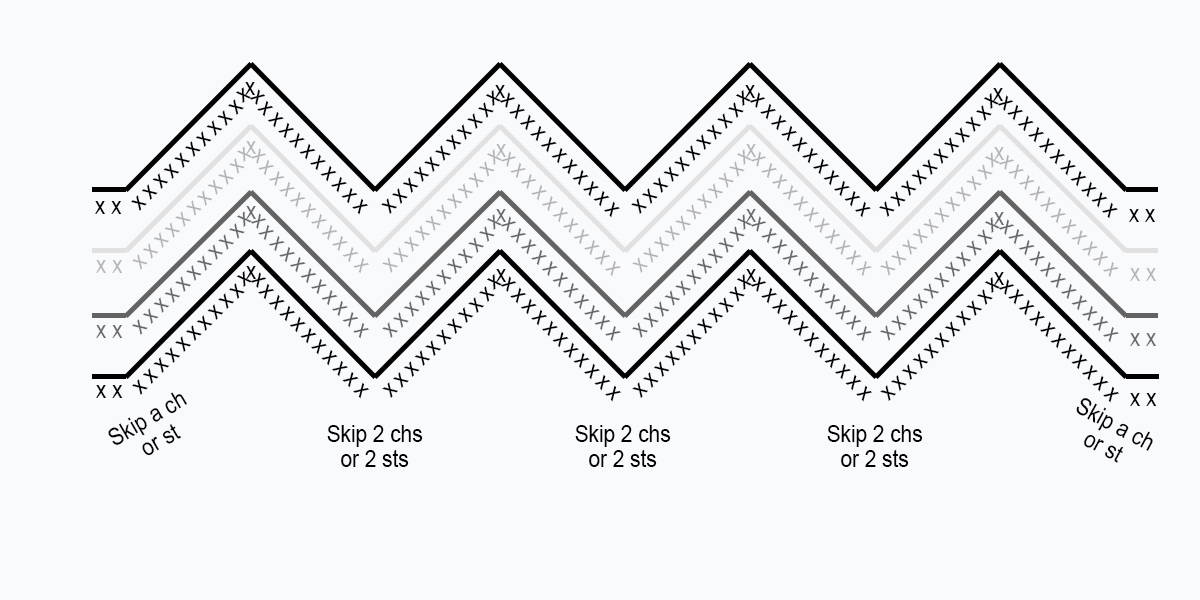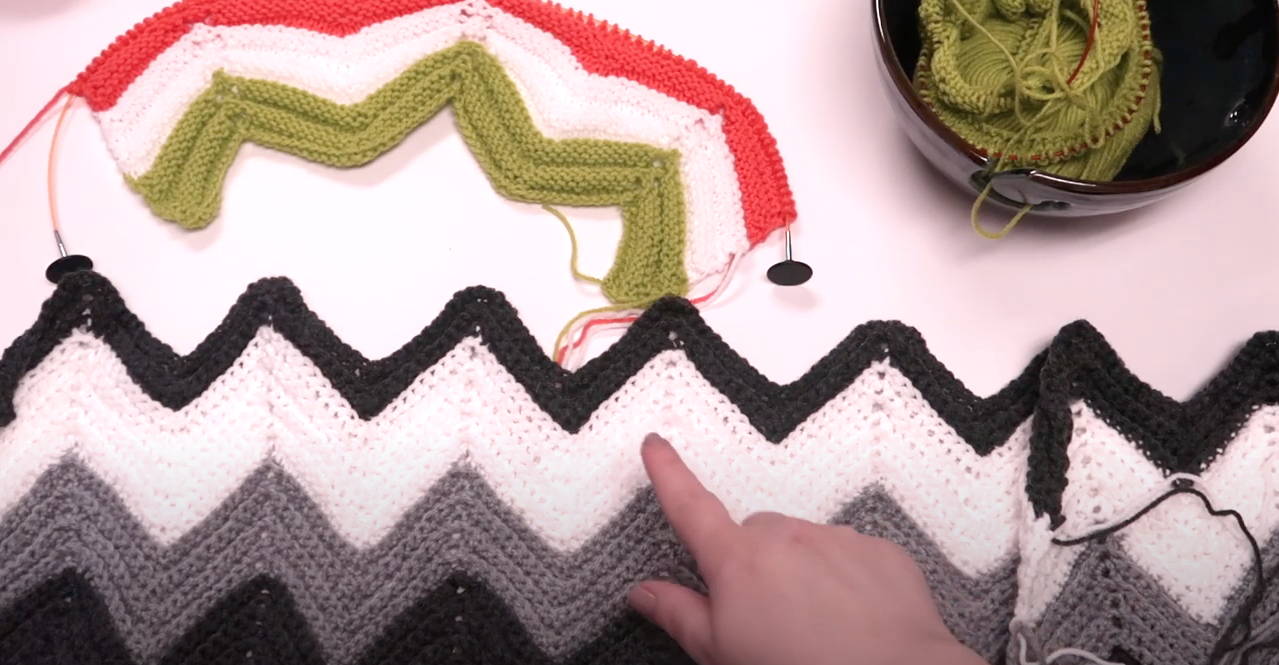 The Ripple Technique is easy to identify by its often sharp peaks and valleys. The illusion of waves in these types of patterns is created by increasing and decreasing stitches. This differs from other beginner patterns in which you may recognize a similar wave illusion that uses a scallop or the shell stitch to create movement in a design. Patterns may vary, but in general, this ripple illusion is created by decreasing the same number of stitches at the bottom of a peak as you increase at the top.
These decreases and increases are usually the same number of stitches maintaining your over all stitch count. Look at the diagram above, notice on each end you are only decreasing one stitch, this is because you are working only one side of the peak.
Mary Maxim Ripple Patterns
How to Knit or Crochet a Ripple

Patterns using the ripple technique require a lot of stitch counting to create the symmetry that makes these patterns so beautiful. You cannot estimate where to place your increases and decreases or rely on only visual cues to know where to place your stitches. Counting your stitches is essential whenever you work a ripple pattern, but it is significantly more important when working a ripple.
To keep your stitches balanced, make sure you increase and decrease at the same rate. This can also be altered to have different sized peaks and valleys but make sure that if you make this alteration that you keep it consistent throughout the pattern. When working the Ripples Galore pattern, you will add a stitch and subtract a stitch on each side of the peak. This is true for both the knit and the crochet versions. If you have more stitches on one side than the other, your peaks will begin to list, and the peaks may not align with each other.

Knit and Crochet Ripple Tutorial
How to pick your Ripple Project
The only requirement for a good ripple is that the ripples stay consistent row by row. If you are a beginner we recommend starting with the Ripples Galore pattern featured in this post. It has a very easy pattern repeat. Many patterns have extra design elements and longer repeats such as the Shaded Diamonds Throw. There is a lot of room to customize any ripple pattern to express your creativity. Try different stitch combinations to create new textures like in the Chevron Baby Blanket and the Sparkling Waves of Color Blanket Work your ripple in only one color and let your stitches show their beauty like in the Vertical Zig Zag Throw or Bands of Lace Ripple Blanket Use gradient colors or a color family like in our Ripples Galore family or choose your favorite color combinations. Both of these blankets are worked using the Ripple Galore Pattern. The Dark Grey, Light Grey, and White Crochet blanket is worked using a color gradient. The Lime, White and Melon swatch was knit using watermelon colors for a fun summertime blanket.

Stay Tuned for more great tutorials and exclusive previews. Next week we will be premiering a brand new yarn line from Mary Maxim that we know you'll love. Check out our other crochet tutorials like our post on How to Crochet a Basic Baby Blanket. Make sure to follow us on all of our Social Media profiles!