Crocheting a baby blanket for a new arrival is a rewarding experience and a wonderful project for all experience levels. Make this baby blanket with only two basic crochet stitches: the half double crochet and chain stitch.
Crocheting is rewarding enough all by itself, as there are so many possibilities in just a few stitches. Projects like the Basic Baby Blanket are very suitable for first-time crocheters and, can be finished quickly, and looks incredible. So, if you, as a new crocheter, want to crochet a surprise baby blanket for a newborn, this is a great project to start with.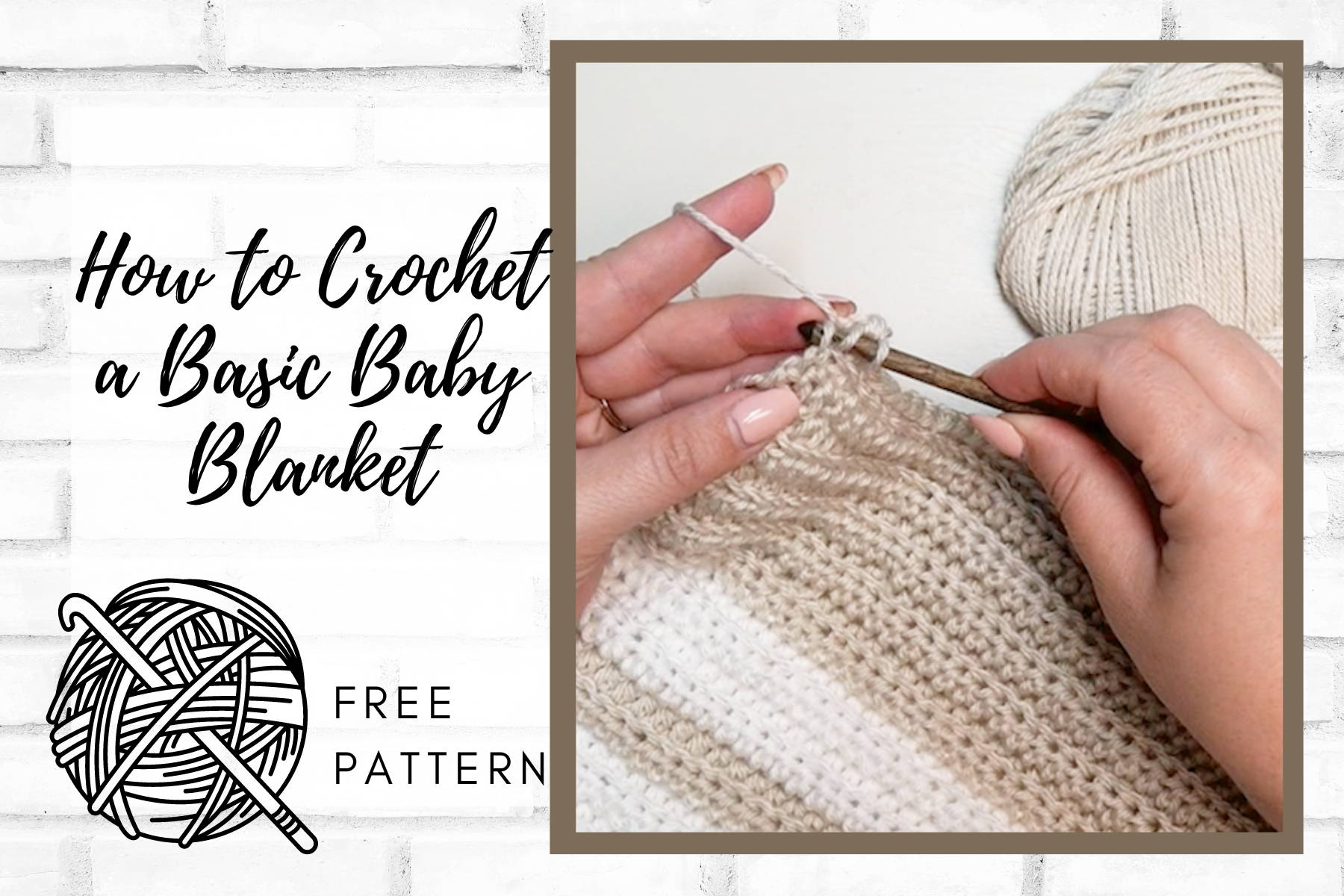 Are crochet blankets safe for babies?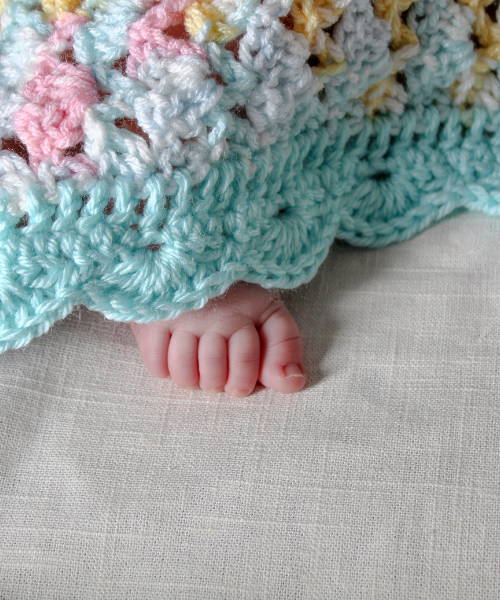 While crochet baby blankets are an amazing gift for newborns and expecting loved ones, use any baby gift with caution, especially when the gift is intended for use with a baby under one year. All baby blankets, whether handmade or not, should be used and supervised. Crochet items are naturally breathable and may be more suited, but not always. The American Academy of Pediatrics also advises against using anything soft in your baby's crib, and sleep sacks are the current preferred method for crib sleeping.
Like a crib, you'd also need to pay attention to whatever you use crochet in your car seat, stroller, or swing. Make sure any blanket or handmade item coincides with local and state laws as well as car seat guidelines. Nothing should be between the baby and the car seat, specifically puffy winter coats or blankets. A good solution is a car seat blanket that doesn't interfere with any restraints or safety features.
One thing to keep in mind while making a crochet baby blanket is string entanglements. It's always a good idea to make sure ends are properly tied off, sewn in, and short. We are always concerned about strangulation risk, but small fibers that can get wrapped around tiny fingers and toes should also be considered whether the items are handmade or not.
Finally, avoid anything that could be a choking hazard. Buttons and beads should be discouraged in anything meant for babies, with the exception of some garments. Babies love chewing and playing with these embellishments. They will inevitably detach, and when they do come loose from the blanket or other baby item, you can bet they'll immediately go into a little mouth or pushed up a tiny little nose.
As baby grows, it's heartwarming to see them enjoy handmade pieces, so stay within the above guidelines and add a note for the intended recipient with wash instructions for the best results. Over time you'll find that your baby grows to love crocheted blankets, and it becomes an even better fit.
So, are you unsure if you can personally use a crochet blanket for your baby? Well, yes, but always ensure it's under proper supervision.
What do I need to crochet a baby blanket?
Learning the basics, playing with a bit of practice yarn, a crochet hook matching the recommendations for your yarn, and having a quality crochet pattern helps to ease the difficulty of crocheting a baby's blanket. However, they aren't the only things you'd need.
As a matter of fact, you'll also need a tapestry needle and stitch markers. We'll talk more about all the equipment you need later in this article; for now, let's talk about hooks, as you need to understand why it's important to pick the right look and know how to choose it correctly.
Hooks that are 2-3 times bigger than the ball band will render looser stitches and gives the fabric extra drapes. Smaller hooks will make the stitches tighter and are great if you are crocheting an image into the blanket or if you are working on a mosaic pattern. Baby blankets shouldn't be unnecessarily stiff or have stitches too loose that the baby's fingers and toes easily work through the stitches.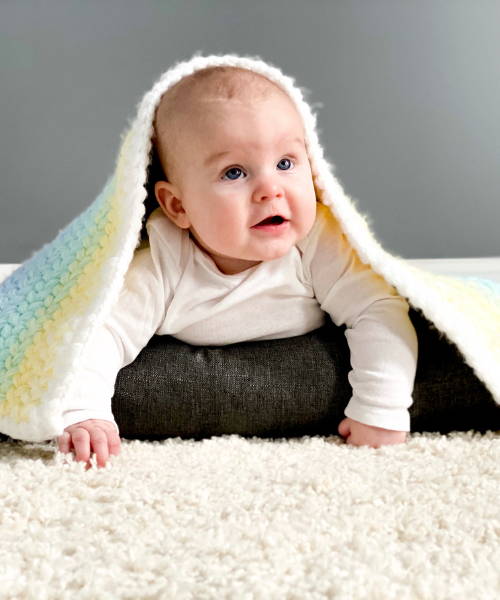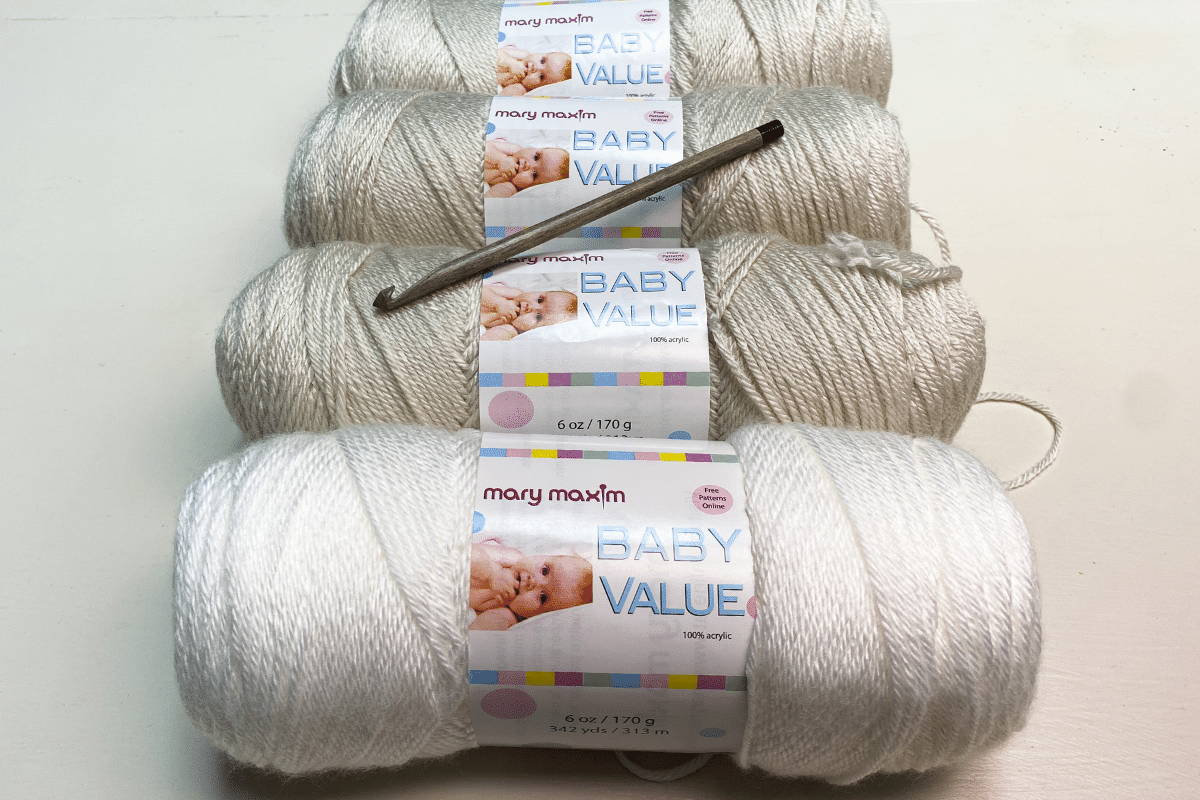 For crocheting our Basic Baby Blanket, you'd need the following:
Yarn (Medium Weight Size 4)
Mary Maxim Baby Value Yarn
MC Cottonwood - 3 Skeins
CC White - 1 Skein
Crochet Hook
Size J-10 (6.00mm)
Tapestry needle
Scissors
To reduce the number of back-and-forth information relay, we used a couple of abbreviations and stitches that can be uniquely defined, and we'd explain them here:
ch – chain stitch
st – stitch
sl st – slip stitch
hdc – half double crochet
blo – back loop only
" – inches

Finish off means you leave 5 or 6 inches tall before cutting the yarn. Proceed by pulling on the loop on your hook just until the yarn end is through. Tighten by pulling gently.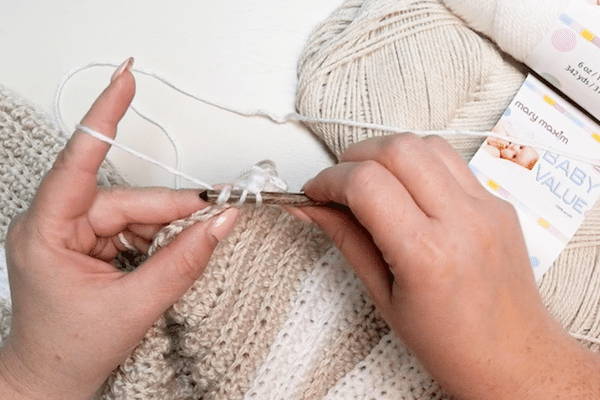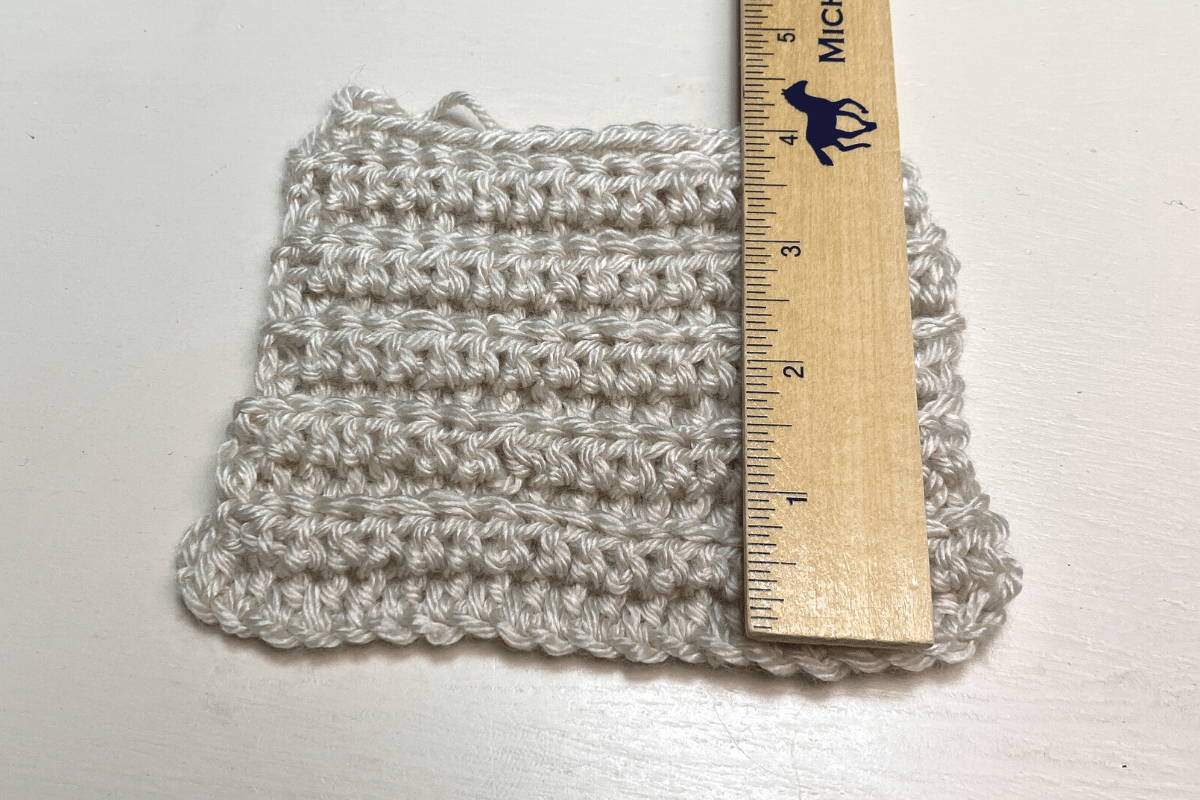 Although achieving gauge isn't necessary for this project, it's a great opportunity to get used to checking and getting more familiar with the concept.
Gauge Information: 14 sts & 10 rows = 4" [10 cm] measured over the pattern using the suggested hook or any size hook which will give the correct gauge
If your gauge is too big, your baby blanket will be much bigger than expected, and you'll run out of yarn. If you do find that your gauge is too big then try a smaller hook until your gauge more closely matches.
Vice versa, if your gauge is too small, then use a bigger hook until it more closely matches. If your gauge is too small, then your finished piece will be smaller and stiffer, not having the same drape as our sample.
When finished with the pattern as written it should measure 36" x 48"
Checking your gauge is easier with a gauge swatch, and you can crochet a gauge swatch by crocheting the following:
Chain 21
Row 1: Half-Double Crochet in third ch from hook and in each ch to end, turn.
Row 2: Ch 2 (counts as first hdc now and throughout pattern), hdc in blo in each stitch to end, turn.
Repeat row 2 for 10 more rows.
Measure your swatch to record your stitches per inch as you crochet. As you are working your blanket it's a great idea to check your gauge often. This will tell you if your stitches become inconsistent or if you accidentally picked up the wrong hook.
What type of yarn is best for a baby blanket?
The acrylic& polyester yarns are notable for their easy-care nature —they are often machine washable and can hold up well. Yarns like this have a unique soft feel to them and are great for making baby items. Few come as scratchy, so screen them out and only opt for mild acrylic polyester yarn, many times value
Before you jump off to start the machine washing, If you want to see how this yarn will wear, make a gauge swatch and test wash it by running it through a wash and dry cycle. The result will show you how your baby blanket will look after you wash it.



CottonYarns
Cotton yarn is quite loveable, soft, and welcoming. Most blankets made with cotton yarn are seemingly cool and crisp and would be a good choice if you are concerned that your baby might be overheating. In addition, they are durable and easy to care for.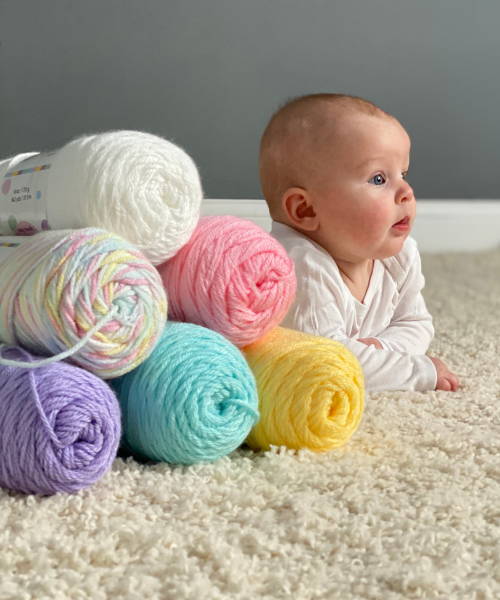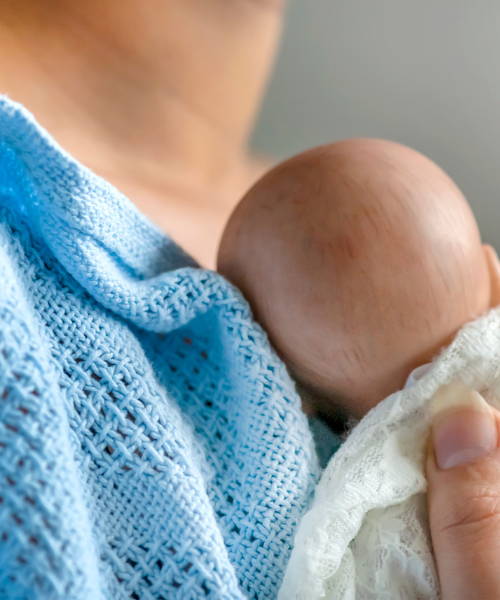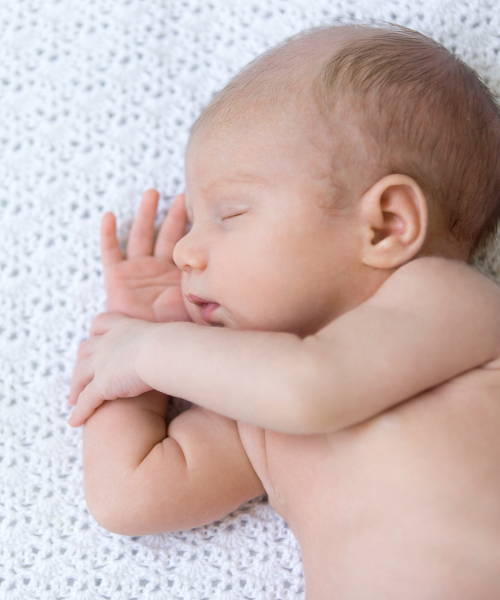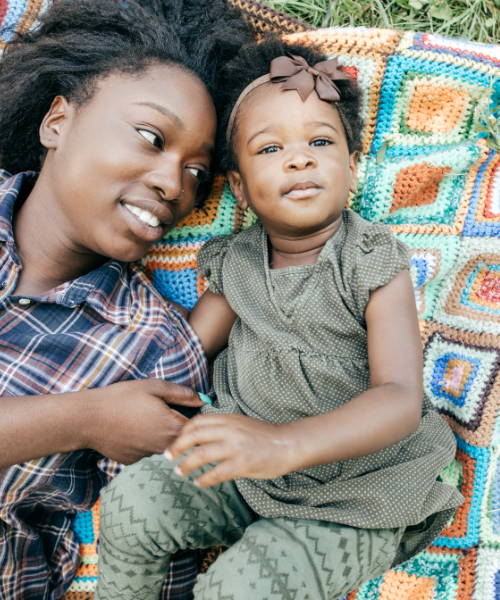 MaryMaxim Baby Blanket are about have the size of a typical throw measuring approximately 36" x 48" This size differs pattern by pattern and according to how they are used. You may even find some blankets may measure as large as a full size throw or as small as a12"x12" square that is fondly called a lovey.
You'll find that most measurement differ based on use and intention. For instance loveys are meant to be held and snuggled and incredibly transportable. We love "Loveys" because baby can use it as a comfort item and take it where ever they want lowering the likely hood of it being drug on the ground or getting full of dirt and germs.
Here are three popular sizes for baby blankets
Preemie
Preemie is the smallest baby blanket you can make, and it measures 26 inches wide by 34 inches long. If you use a yarn with 283 meters per ball, you'd need to crochet your blanket with about two to three 5-oz skeins of yarn, depending on how tight or loose you crochet.
Asper yard, you'd need 724 yards/662 meters to complete the blanket.And probably more just for your gauge swatch.


Newborn
Next is the newborn; a newborn mid-sized blanket is 30 inches square, which can be longer if you prefer a rectangular-shaped blanket. This means you can aim for a 30" x34".
As such, you'd need about 2-3 of the 5-oz balls of yarns. It could be more or less, depending on how tight or loose you crochet.


Toddler
The toddler is the biggest of all baby blankets and measures about 36 inches by 44 inches and is the most common size at about half the size of a full sized throw. As a result, you will need up to four5-oz.
Also if you are interested, see our complete guide on the amount of yarn you will need for all the different crochet project sizes, not just baby blankets.
How to Crochet a Baby Blanket Video
Simple Baby Blanket Pattern Instructions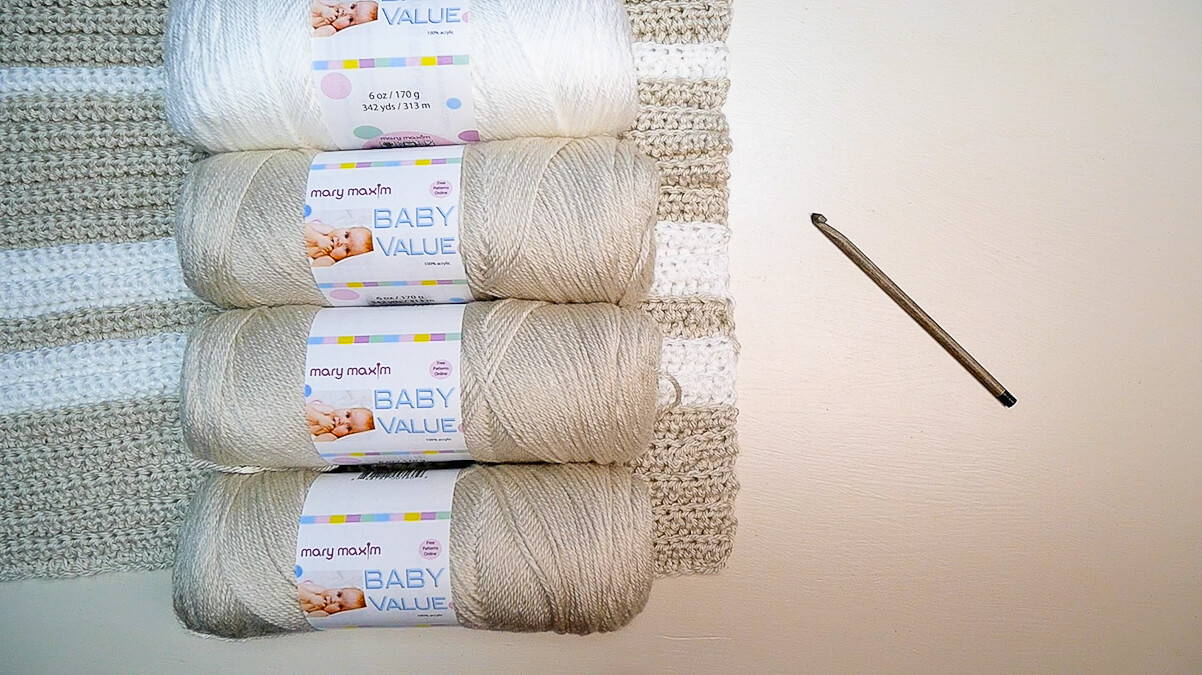 Using Main Color, chain 121
Row 1: Half-Double Crochet in third ch from hook and in each ch to end, turn.
Row 2: Ch 2 (counts as first hdc now and throughout pattern), hdc in blo of next st, and in each rem st to end, turn.
Repeat row 2 changing colors as follows
Rows 3-10: MC
Rows 11-14: CC
Rows 15-16: MC
Rows 17-20: CC
Rows 21-30: MC
Rows 31-32: CC
Rows 33-42: MC
Rows 43-44: CC
Rows 45-54: MC
Rows 55-56: CC
Rows 57-66: MC
Rows 67-68: CC
Rows 69-78: MC
Rows 79-80: CC
Rows 81-90: MC
Rows 91-94: CC
Rows 95-96: MC
Rows 97-100: CC
Rows 101-110: MC
Tips for making the Basic Baby Blanket
This is a very simple baby blanket. The half-double crochet stitch is very versatile but also very interchangeable. If you are more comfortable working a single crochet or a double crochet, feel free coloring outside the box and make easy crochet pattern your own. We would caution against substituting the half double crochet for the trebble crochet as the stitches would have large gaps between them.
We are sizing up our hook to increase our drape. The Basic Baby Blanket is very soft and drapes closely to the skin when cuddling it making it a softer blanket.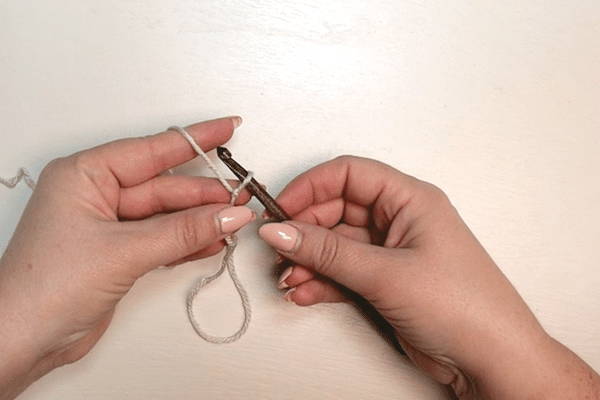 Start by chaining 121 using the main color for a toddler sized baby blanket to make the blanket as shown.
If you'd like to make a smaller blanket you can decrease the amount of chains just remember to decrease some repeats of rows in the middle of the blanket.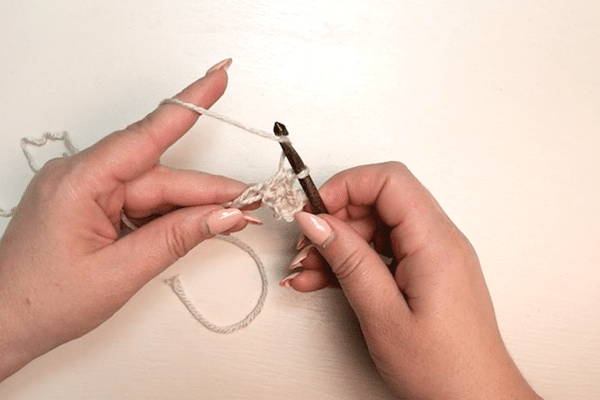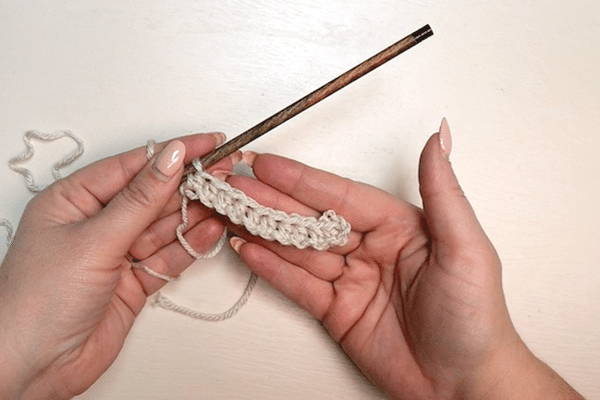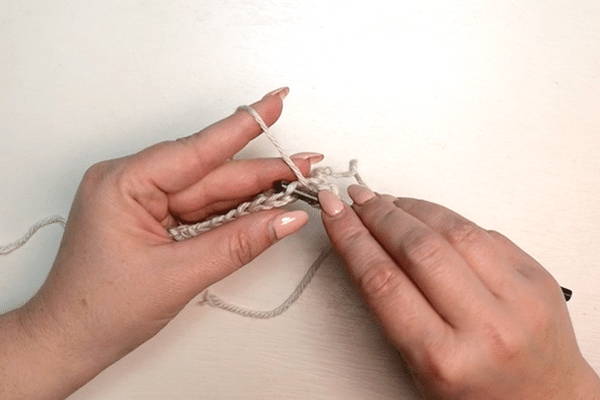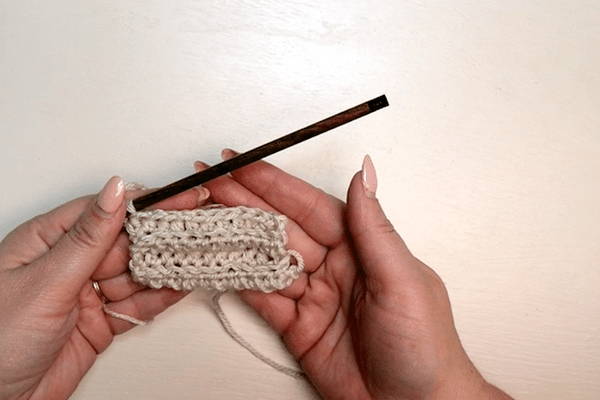 Row 2: Ch 2 (counts as first hdc now and throughout pattern), hdc in blo in each st to end, turn.

To make the ridges in this blanket that gives it beautiful texture we are working into the back loop only. Normally when working the next row, you work them through both the front and back loop of the stitch in the previous row, but if you look at the top of the stitches you'll see where these two stitches separate. Work the second row the same as the first, except work into the back loop.
Continue by repeating row two changing colors as indicated in the pattern above, remember if you want to make a smaller blanket, it's a good idea to reduce some of the repeats that make the striping in the middle of the blanket.
How to Change Color when crocheting
Always change your color in the previous stitch. For our pattern the previous stitch is the last stitch in the previous row. This stitch should be a ch 2 that counts as the first HDC.
To change color yarn over and insert your hook into the last chain of the first stitch and draw up a loop through the chain. Then Yarn over and draw up a loop in the new color through all the loops on your hook. Take a look at this in the video instructions for this baby blanket or check out this video on changing yarn colors.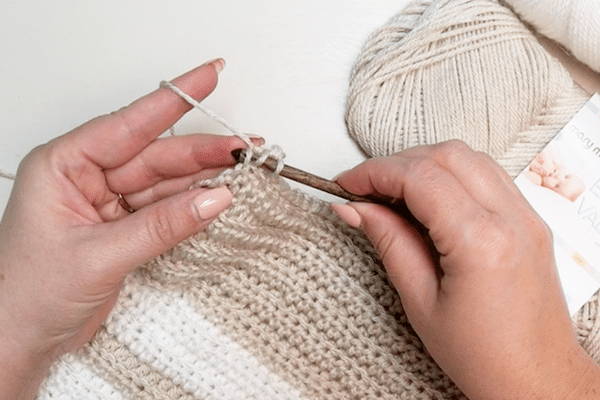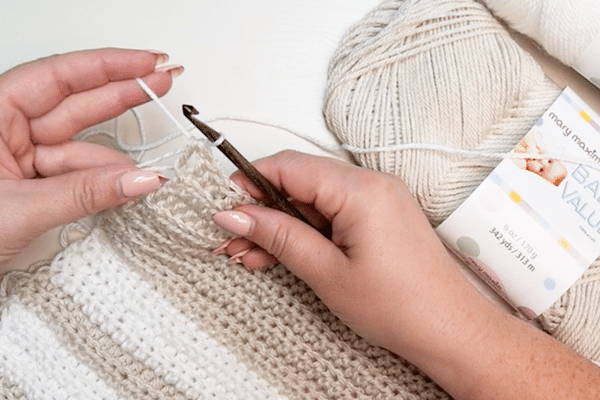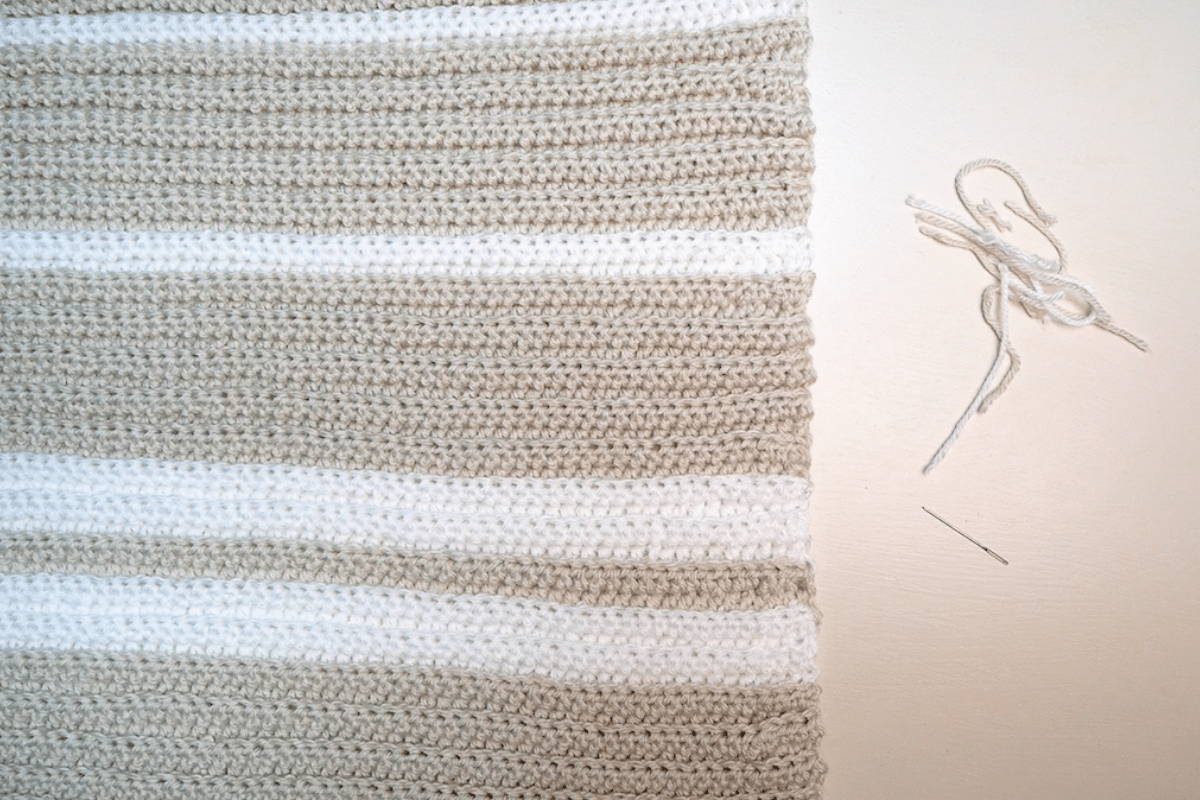 how to weave in ends Crochet
Finish off your yarn by pulling the yarn through the loop on the last row.
Next thread a tapestry needle with the yarn end and weave it through the the fabric of the blanket and ideally across four stitch and four rows but not crossing into other colors. If you are working a contrasting color with just two rows, then just weave through those rows. Make sure that you are maintaining the tightness of the stitches, if you weave too tightly then the fabric will contract.
Trim any loose ends and you're done!