Best yarn for socks - COMPLETE GUIDE
Socks are part of every knitter's project portfolio. They're one of the basic things to start crafting, but that's not to say they're the simplest. Compared to other projects like sweaters, hats, or blankets, socks need to be extremely comfortable to wear, elastic, and durable.
And there lies the importance of choosing the best yarn for knitting socks. The type of yarn you choose can spell the difference between comfort and agitation and change the weight, feel, thickness, and elasticity of the final outcome.
Your knitted socks will only be as good as the yarn you use. Read on to learn how to choose yarn for knitting socks, what you need to consider, and some of the best sock yarns in the market today.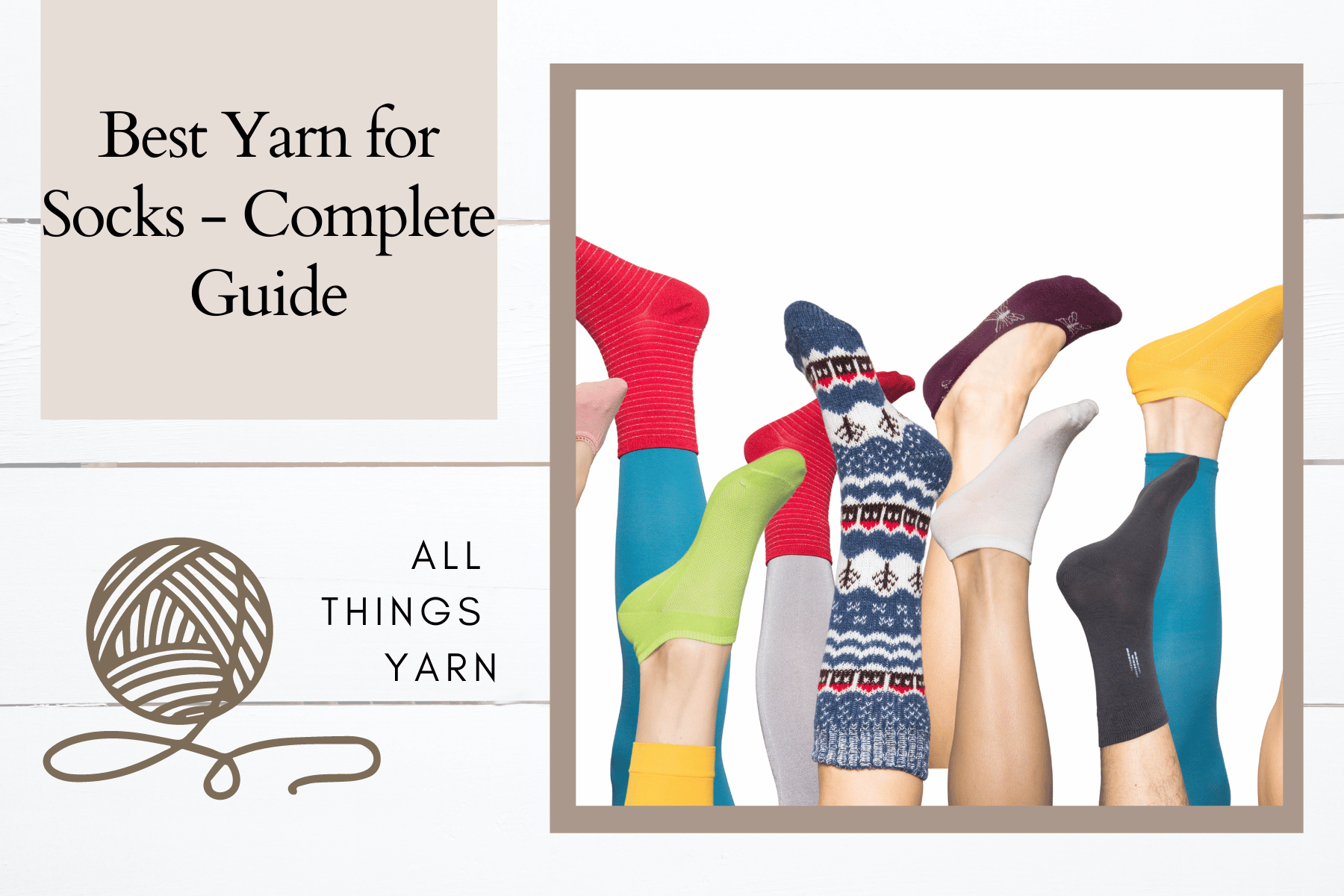 Socks should be breathable, elastic, and canstand up to wear and tear, which calls for the use of a specific yarn type whenknitting them. Most knitters turn to sock yarn, which is classified asfingering weight yarn #1.
Sock yarn can be a blend of different fibers,such as a wool and nylon blend, or made of purely natural fibers like wool sockyarn, superwash merino wool yarn (see free merino pattern), cotton or bamboo. Superwash Merino Wool helpsmake the socks softer and more elastic, perfect for daily wear and comfort.
When looking for yarn for your project, it'sbest to opt for those that are specifically labeled as "sock yarn". But eventhen, make sure you're considering the factors we discuss below.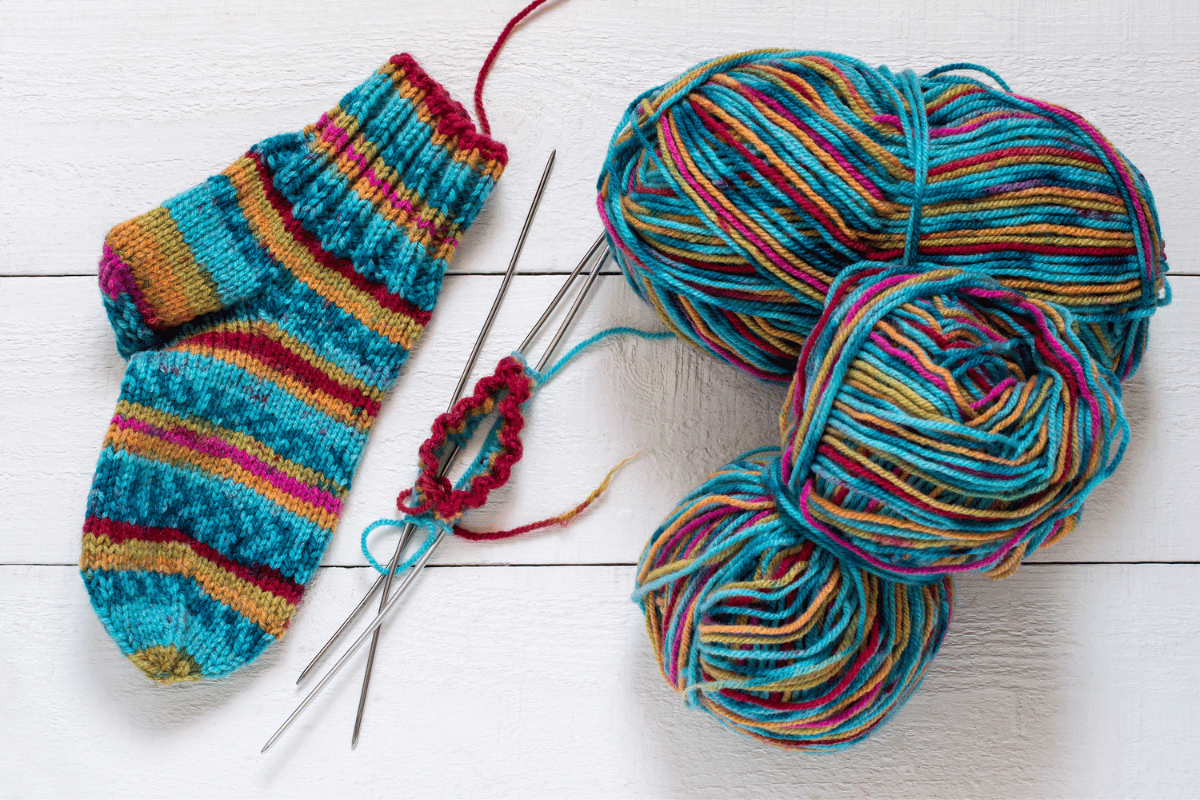 What to Consider When Choosing the Best Yarn for Socks
Ultimately, the best sock yarn to use is dependent on your taste, but before settling on a type of yarn, you need to make a couple of considerations.
First and foremost, you need to consider howyou plan to use the socks, which will help you decide on the proper yarnweight. If you're intending to make boot socks to wear for lounging indoors,then you might want to use thick yarn weights like worsted weight yarn or bulkyyarn. This creates thicker socks that are akin to knitted slippers.
But if your intention is to wear the socksinside your shoes, then you need a much lighter and thinner yarn that won'tcompletely fill the space inside your shoes and make them too tight to wear. Inthis case, your best bet would be fingering weight yarns.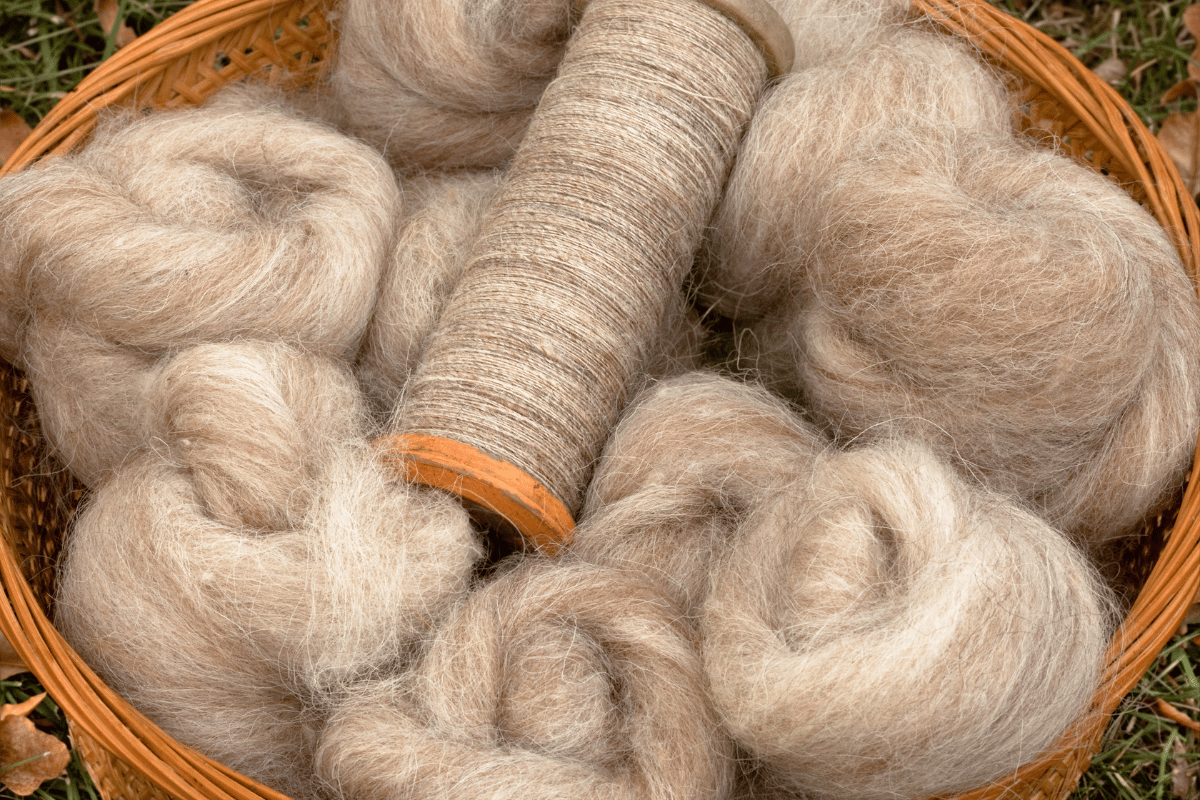 Socks need to be soft and gentle on the skin,so you have to pay attention to the yarn's fiber content. You don't want tochoose fibers that are rough and coarse, which will make the socksuncomfortable to wear. Your best options are wool and cotton.
Wool is considered the universal fiber forsocks because it is soft, elastic, and always goes back to its original shape. Althoughwhen selecting wool for your socks make sure the recipient doesn't have an allergy.There are also a variety of weights, colors, and patterns, as well as woolblends made specifically for knitting socks.
When choosing wool yarn, look for those thatare specifically labeled as sock yarn. These typically contain a nylon blendthat can increase elasticity and durability.
Another fiber that's suitable for knittingsocks is cotton, which has relatively good durability. However, cotton is not afirst choice among knitters because it can lose its shape when washed toooften. So unless you opt for a cotton blend that has elastic fibers, your socksmight wear out after only a couple of uses.
Socks are proneto early wear and tear because they encounter rigorous use day and night.Typically worn under shoes, socks sustain strong friction and are washed moreoften than other pieces of clothing. When knitting socks, you need to use yarnthat is durable and easy to care for.
Specifically, theyarn needs to have fibers that are:
● Abrasion resistant - When exposed to too much friction, socks tend to pill, felt, and end up with holes. So you need a yarn that can handle abrasion. Test out your yarn swatches by rubbing them on different surfaces and examining how friction has affected them. Then opt for one that shows the least pilling or damage.
● Elastic - Probably the most uncomfortable thing is wearing socks that fall off your ankles and crumple up inside your shoes. Socks need to be highly elastic, hugging the ankles when worn but going back to their original shape when taken off. Yarns with a blend of nylon are more elastic than pure natural yarns.
● Moisture-wicking - Sweat comes out of the glands on our feet, so you need to make sure your socks' fibers can wick off moisture and keep your feet dry. Natural fibers are popular for their moisture absorption and wicking properties.
● Washable - Some fibers are resistant to machine washing, but others are more delicate and need to be hand washed. If you don't have the luxury to do the latter, you need to use yarn that will last even if you throw your socks in the washing machine after use.
Depending on the design you're going for, youmight want to pay attention to how defined your chosen yarns can make yourstitches. Some fibers are spun in a way to achieve a more excellent stitchdefinition than others, which can go a long way in helping you achieve yourintended design.
If you're only looking to create socks inneutral colors like black or white, then this factor might not matter to you asmuch. But most knitters always want to add a little pop of color to their work– and if you're one of them, then you might be motivated to find yarn that comesin a suite of colors and shades.
Different colors can also help you achieve thedesign you're aiming for. If you want to emphasize stitch definition, usedarker solid colors, which also work well in masking cables and stitches. Ifyou want to emphasize details, then switch between dark and light shades. Thereare also self-striping yarns that transition between colors so you don't haveto change skeins manually and weave in ends later.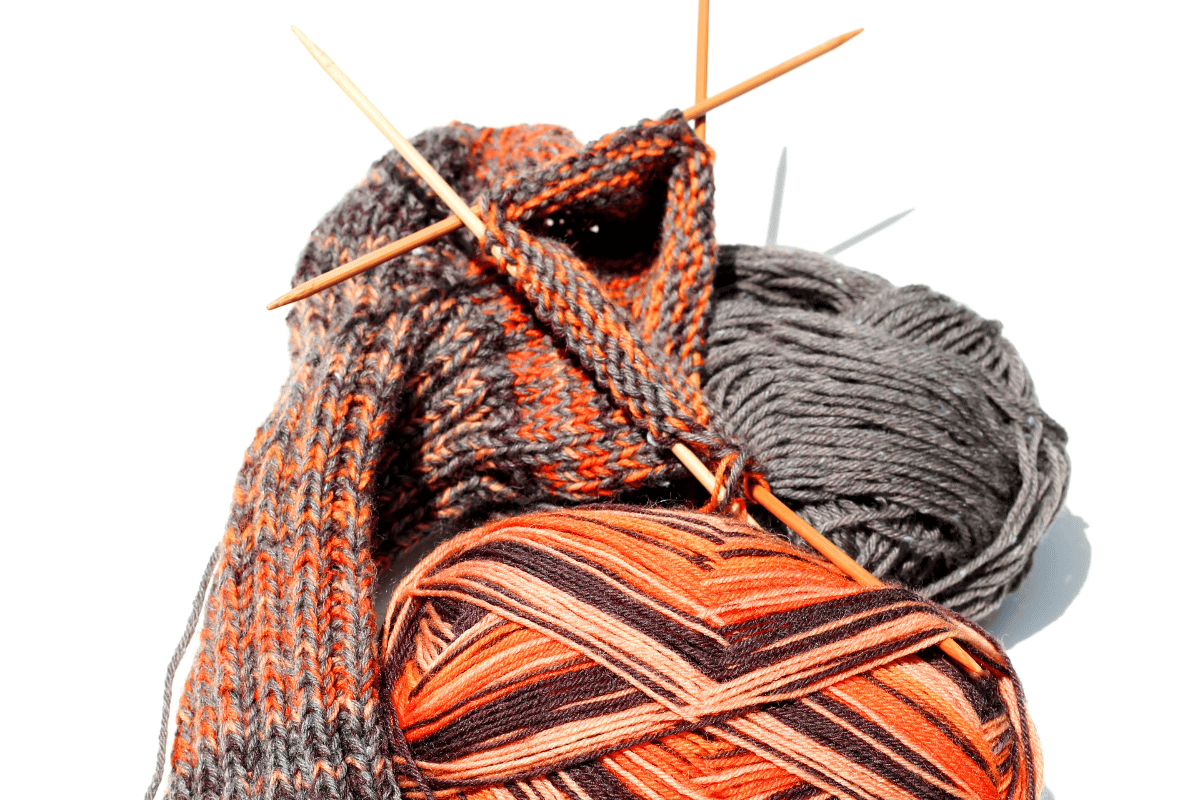 The Best Sock Yarns for Knitting
The best sock yarns will ultimately come down to the yarn weight. Fingering weight yarn, sport weight yarn, DK weight yarn, and worsted weight yarn all have the ideal thickness to help you knit comfortable and elastic socks that you'll want to wear.
Fingering weight yarn, also called superfine yarn, sock yarn, or baby yarn is a good option for knitting socks because it's thin and durable. It comes in a 4-ply construction and is categorized as a Super Fine yarn. Below are the best fingering weight yarns you can use for socks.
Sport weight yarn is the middle ground between fingering weight yarn and DK weight yarn, heavier than the former but lighter than the latter. It's categorized as a number 2 fine yarn and gives excellent stitch definition.
DK weight yarn is a light to medium-weightwool that is versatile and can be used for a wide range of knitting projects.It's especially popular for crafting socks for year-round wear because of itsbreathability.
Worsted weight yarn is a medium-weight yarn that is commonly used to make apparel designed to keep the wearer warm. This includes sweaters, afghans, mittens, hats, and socks. Because of its slightly thicker strands and softer feel, it makes for a good yarn to make boot socks for home wear.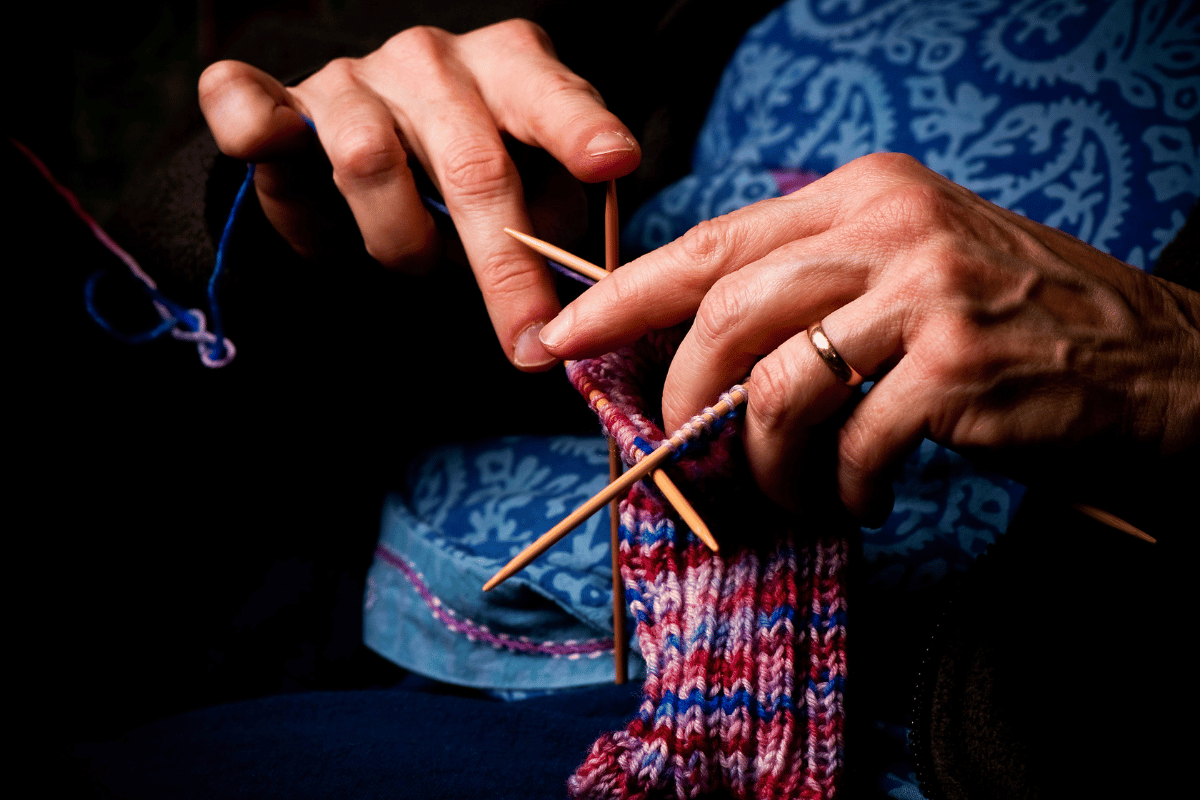 What weight of yarn is best for socks?
Fingering weight yarn, sport weight yarn, andDK weight yarn are considered the best options for knitting socks. They rangefrom 1-ply to 4-ply in thickness, so you should choose the weight ideal foryour socks' intended use.
If you want to make summer socks, a thinneryarn weight, such as fingering weight yarn, is best. But if you're looking tomake winter socks that are slightly thicker, you should opt for yarn that is2-ply to 4-ply.
What kind of yarn do you use to make socks?
Pure wool yarns or wool blends with nylonor acrylic are the best options for knitting socks. This is because they are softand comfortable to wear while having enough elasticity to make the socksdurable, tear resistant, and able to hold their shape. These materials are alsomachine-washable, perfect for socks that need rigorous care and washing.
Is 100% cotton yarn good for socks?
Aside from wool, crafters may also opt to usecotton to knit socks. While its thin and smooth construction may be good forsummer socks, cotton does not hold up well to wear and tear. It's also not aselastic as wool and wool blends, which means the socks won't hug the ankle andend up falling out of shape.
It's generally recommended to use a cottonblend with acrylic or nylon for more elasticity. But if you opt to go for 100%cotton yarn, then you might need to add an elastic strap or thread to help thesock stay in place.
Can you use worsted weight yarn for socks?
Worsted weight yarn is the thickest sock yarn on the market. Whether or not you can use it will depend on the type of socks you're looking to make. Because worsted weight yarn is a light to medium-weight yarn, it will create thicker socks. Hence, it's ideal for boot socks or lounge socks that you plan on using at home.
But for thinner socks that will be worn inside shoes, a lighter-weight yarn, such as fingering weight yarn, is a better option.
The yarn you choose can either make or break the wearability of your socks. Make sure to weigh your options and find the best yarn that suits your goals and intended application. As long as you have the right yarn, you'll be able to create a successful sock project.