Did you know March is National Crochet Month? Let's start off this month with a Crochet-Along with the Pearl River Shawl, a free pattern design in collaboration with Mary Maxim and Crochetastic Boutique.
Subscribe to the Mary Maxim Blog!
March is an incredibly special month to me for many reasons; but one reason why I love March is because it means Spring is around the corner. The weather gets warmer, flowers start blooming, and daylight lasts a little bit longer. I tend to find myself shopping for lightweight yarn and start to brainstorm designs to welcome the upcoming season.
I knew I wanted to design a shawl that resembled a free-flowing river. I love the idea of a river having spontaneity; it can change its course at any time, and it can shrink or swell on its own. Once I figured out the design, it was time to find yarn to match the flowy, light design I was trying to recreate.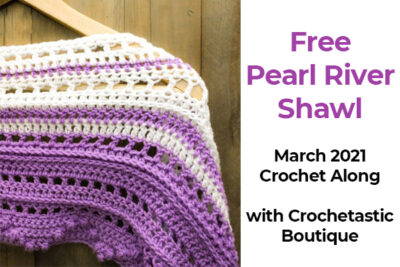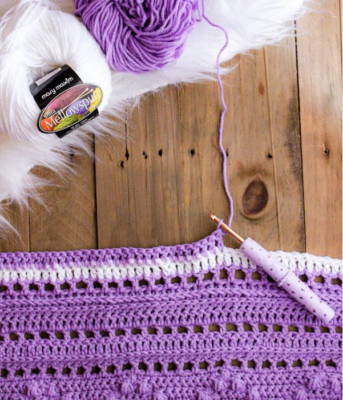 Mary Maxim's Ultra Mellowspun DK yarn delivers great stitch definition while also being lightweight and soft, which is perfect for the shawl. The focus of the shawl is the bobbles or 'pearls' as I call them. The Ultra Mellowspun DK packs 174 yards in a skein and I was able to complete the pearl rows with just one skein and still had leftover yarn! As you move up the shawl, you notice a subtle change in texture. I wanted to incorporate a texture change to symbolize the change of pace a river could have. Lastly, I introduce the 2nd color and a new design element, the mesh. I like to refer to this section as 'skipping stones'.
The CAL will divide the shawl into 3 weeks; each week we will focus on a different design element and by the end of our 3 weeks, you will have your very own Pearl River Shawl! Here is quick review of what each week will contain:
Week 1: The Pearls
Week 2: Changing Pace
Week 3: Stepping Stones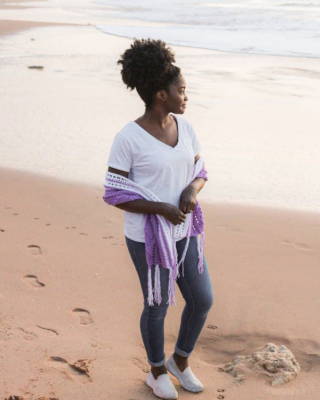 Abbreviations (US Terms):
Ch: chain
Dc: double crochet
Hdc: half double crochet
FO: finish off
St(s): stitch(es)
Sk: skip
Gauge: 8 sc x 7 rows = 2"x2"
Measurements: 60"x 9"
Notes:
Ch 1 or Ch 2 does not count toward stitch count unless noted.
The chart represents the first 7 rows of bobbles. You will repeat a 'peak' and a 'valley' across the entire row. The graph is worked from alternating right to left and left to right.
Special Stitches:
Bobble Stitch: Yarn over, insert hook into stitch and draw up a loop. *Yarn over, pull through two loops. *Repeat * in the same stitch until you have 6 loops on your hook. Yarn over, pull through 5 loops, yarn over and pull through the 2 last loops to close the bobble. Do not ch 1.
Camel Stitch: Half double crochet into the 3rd loop of the half double crochet stitch from the previous row.
Pearl River Spring Shawl Free Pattern
Instructions
Beginning with color A, ch 194.
Row 1: Bobble Stitch in 2nd chain from hook, follow the chart below for Rows 1-7 (193). Each black space represents a bobble st and each white space represents a sc. Please note there is not a row of sc between the bobble sts, disregard the column count in graph.

You have completed Week 1 of this month's CAL with Mary Maxim and you're already a third of the way finished with your Pearl River Shawl! Be sure to tag us in your progress photos and be sure to check back next week for Week 2!
Be sure to follow us on Social Media!
Check us out on Instagram, Facebook, and Pinterest.
Happy Crafting!