The Blythe Crochet Handbag
If you are just starting the Blythe CAL then you'll want to go back and check out Week 1 and Week 2 blog posts.

You'll need 2 skeins of Mary Maxim Aspen for this project in your favorite Aspen Color. Wait! Go ahead and order 2 in every color, this is such a fun pattern you'll want to make more than one. This handbag works up quickly and is addictive! It's also a great gift item. I've already made 2, and I won't lie. I ordered enough yarn to make 4 more. And I'm not one to remake my own designs if I don't have to! Aspen is a great yarn to work with, the color variations are so fun, and I think you'll enjoy the unique colors and textures you can create. I've written a review of this Awesome Acrylic Roving Yarn which you can read over on my blog!
The Blythe bag is created a bit uniquely. First, you'll crochet a central panel. Next, you'll fold the panel in half and join the sides by crocheting side panels that start very narrow but widen every other row, giving the bag that unique inverted triangle shape. Finally, you'll attach your handles. It's going to be that easy! I ordered my round handles from Amazon, but many craft stores are sure to carry round wooden or plastic handles.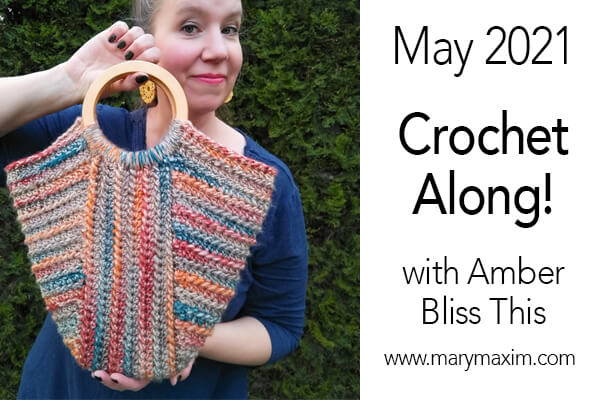 Crochet Level: Easy
Materials:
Aspen (2 skeins) or 240 yards 5 weight yarn

6.5 mm crochet hook or size needed to meet gauge, most testers used either a 6.5 mm or 7 mm hook to achieve gauge.

Large eyed needle for weaving in ends and sewing on handles

Scissors

2 - 6" to 8" diameter round purse handles, t

hese are the handles I used
Gauge:
11 sts X 11 rows = 4"
Pattern for Gauge:
Ch 12.
Row 1: Hdcslst in 2nd ch from hook and each across. (11)
Row 2: Ch 1, turn, hdc each st across.
Row 3: Ch 1, turn, hdcslst each st across.
Rows 4-11: Repeat Rows 2 and 3 4 times.
Finished Dimensions:
Base width: 5" across
Top width: 15" across
Height: 15" length (including handles)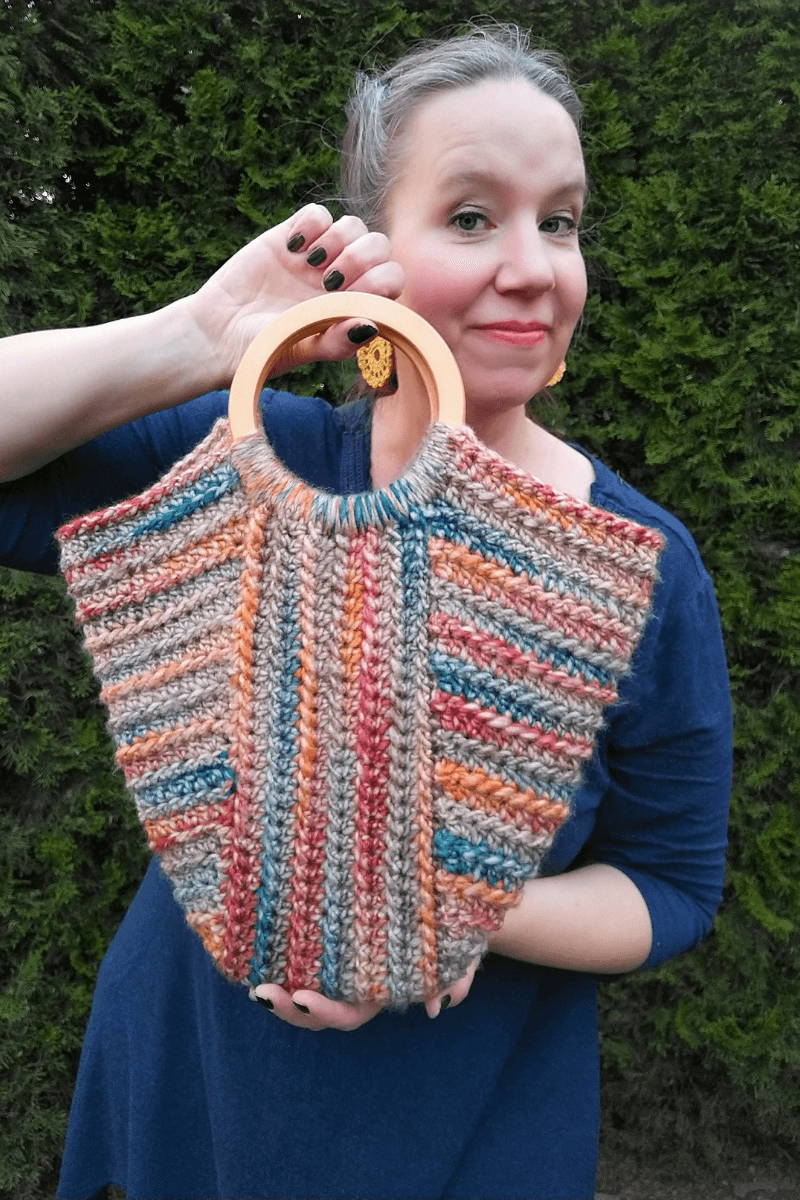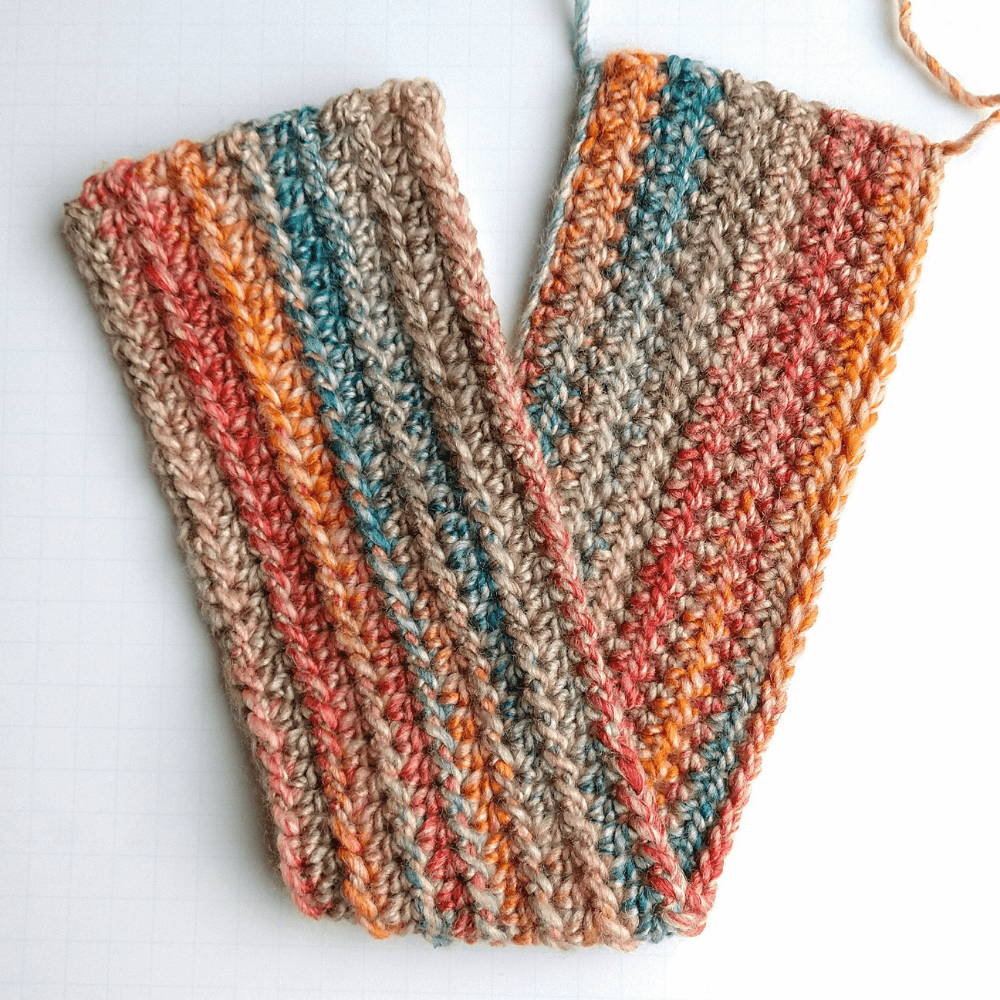 Stitches:
Ch = chain
Hdc = half double crochet
Hdcslst = half double crochet slip stitch
RS = right side
Slst = slip stitch
St(s) = stitch(es)
WS = wrong side
Yo = yarn over
Special Stitches:
Half double crochet slip stitch (hdcslst) = yo, insert hook into indicated st, yo, pull through st and both loops on hook.
Pattern Notes:
All directions are written in US Crochet Terms.

Pattern is worked in turned rows.

Ch 1 does not count as a stitch.

Center vertical panel is created first, side panels are worked horizontal and attached as they are worked, purse body is then sewn to handles.
It's time for the final step! How exciting! We're going to attach our handles this week.
You'll need a LONG (and I mean LONG) strand of yarn for each handle. Get your sewing stamina ready because it will take a while, and you need to go slow. Slow and steady for this part will make a really nice finished look to your handle and handbag.
Handles
Cut 2 lengths of yarn 7 ½ yards each (Yes, you read correctly. I do mean YARDS.). Double the yarn so that you are working with 2 strands, and thread a large eyed yarn needle. Beginning at last row of first side panel, sew purse to handle across to last row of second side panel. Sew through each st or row end twice. Work slowly to avoid yarn twists and overlaps as you sew around the handle. Repeat on other side of purse with second handle.
Weave in all ends.
Look at that! You now have a fashionable Blythe Handbag that is ready to hit the town, or the beach, or the lake, or wherever you plan to go. I'm pretty sure she won't even mind just heading to the supermarket with you as long as she gets shown off!
Did you enjoy making this handbag? I'd love to see your finished Blythe bag, so be sure to post photos on your social media accounts!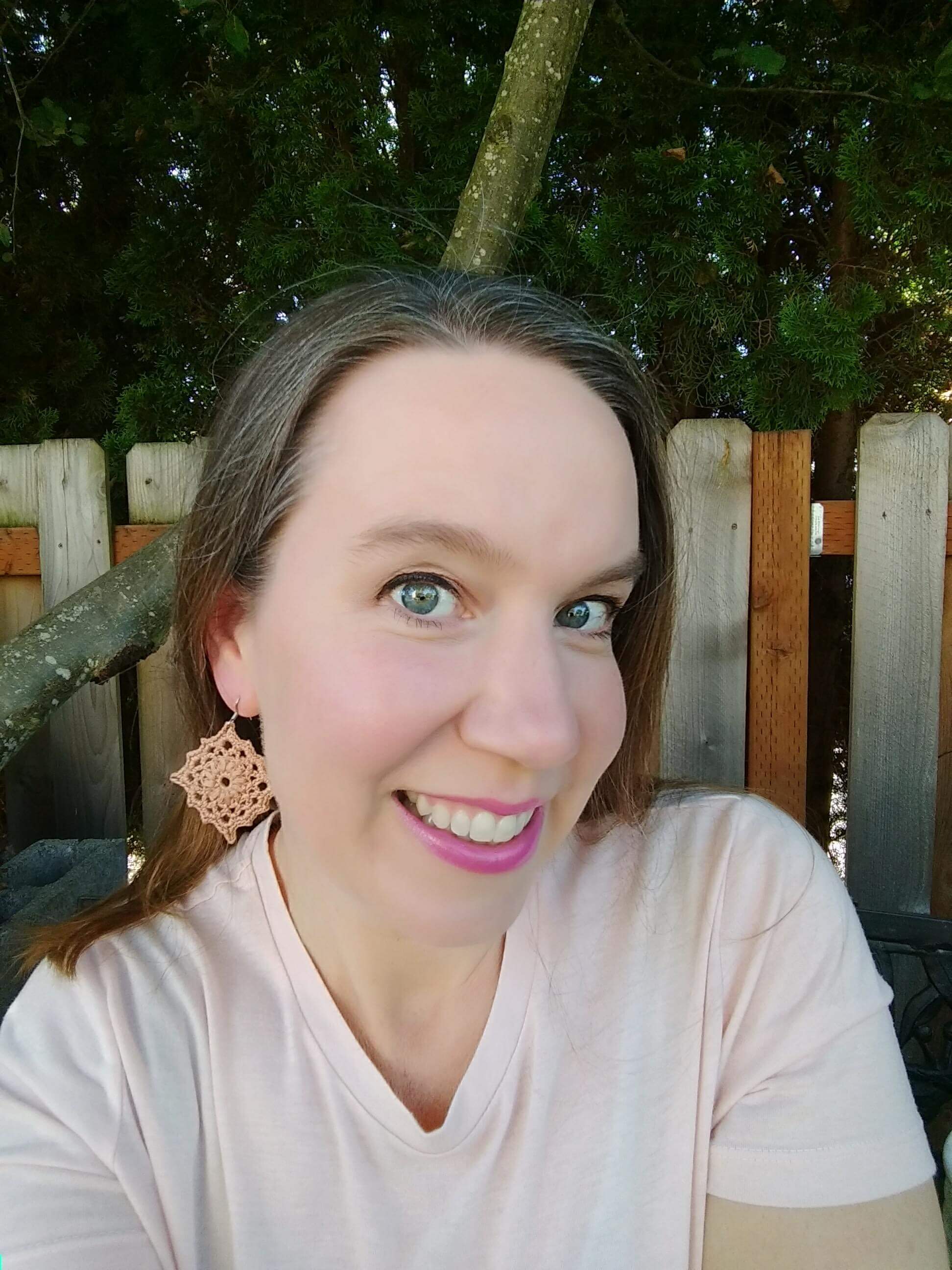 Amber has been designing patterns for several decades but only recently began publishing them. Her design-specialties are earrings and skirts, but she'll crochet anything and everything. Inspired by textures, shapes and a LOT of color, she always has a project in her bag and a notebook to jot down ideas! When not crocheting, she spends her free time hanging out with her husband and two kids, making frequent visits to the Oregon coast. Crocheting is her "moonlight" job, and her days are full of teaching English to international university students. Most non-work days, you can find her surrounded by multiple WIPs (works-in-progress), a strong cup of coffee in hand, and an audiobook playing!